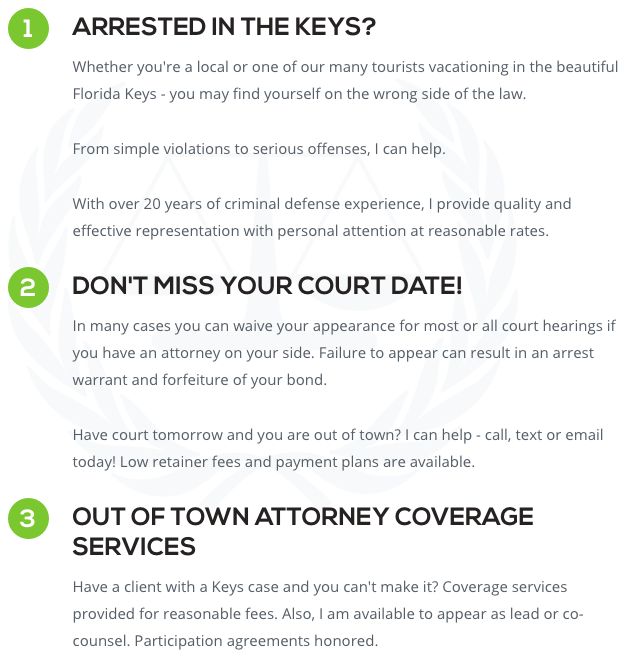 Drug Possession Attorney Key West, FL
Anthony J. Stonick Attorney at Law can help you prepare an efficient and smart defense to present in court when facing trial for your drug possession charge. We have a track record of helping Key West area clients through the litigation process and coming to successful results such as reduction of jail time, reduced fines, and even dropped charges.
The legal professionals of Anthony J. Stonick Attorney at Law are experienced in defending clients facing drug possession charges. If you are facing such accusations anywhere in the surrounding Key West area, count on us to protect your legal rights in court. We have many years of experience defending clients charged with drug possession offenses, and we are more than happy to bring such experience to your case.
Drug possession charges in the Key West area are always tough to deal with, especially on your own. Regardless of whether this is your first time facing such charges or not, the professionals at Anthony J. Stonick Attorney at Law can help you.
Call us today!
Don't let Key West area prosecutors dominate your drug possession case. Call us at Anthony J. Stonick Attorney at Law to ensure you are properly represented in Key West area courts. Drug possession cases can cause severe alterations in your life, so be sure your case is in proper hands by calling our professional team at (305) 324-7888.
Anthony J. Stonick Attorney at Law
93911 Overseas Highway
Tavernier, FL 33070
(305) 324-7888
Related Articles:
Criminal Trial Attorney Key Largo FL
,
Criminal Trial Attorney Miami FL
,
DUI Defense Attorney Key Largo FL
,
DWI Defense Attorney Miami FL
,
DWI Lawyer Miami FL
,
Federal Lawyer Key Largo FL
,
Felony Lawyer Islamorada FL
,
Marijuana Possession Lawyer Stock Island FL
,
Criminal Law Firm In Key Largo FL
,
Criminal Defense Law Firm In Key West FL
,