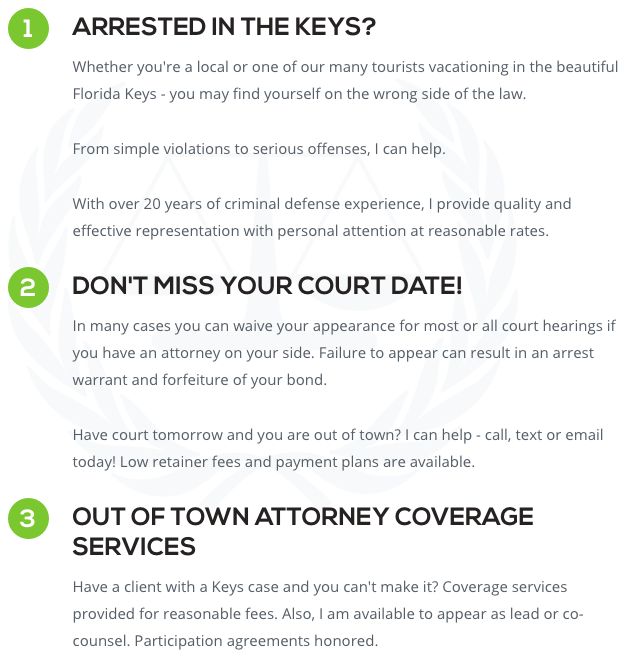 Criminal Attorney Islamorada, FL
Our criminal representatives for clients within the Islamorada area understand that the criminal justice system can be overwhelming, frustrating and cumbersome for even those with intimate knowledge of the law. If you are facing serious crimes, like a DUI, assault, drug offense, or any other type of legal issue within the Islamorada area, you should retain criminal counsel from Anthony J. Stonick Attorney at Law to guide you through the process. In almost all criminal cases, it is imperative to seek representation early on, even before speaking with authorities.
The legal professionals at Anthony J. Stonick Attorney at Law draw from countless resources --ranging from our many years of experience to the latest cutting edge legal technologies and databases-- to represent your criminal case effectively. We consistently evaluate our inter-office procedures for dealing with Islamorada courts, and look for ways to improve. We also bring more resources towards representing our clients during criminal legal proceedings.
Here at Anthony J. Stonick Attorney at Law, we have defended clients throughout Islamorada facing both state and federal criminal charges. Everything from minor charges to a possible felony, our criminal legal team has the experience to help you through your case. You do not have to be a celebrity to receive top-quality legal advice and help in the Islamorada area. We at Anthony J. Stonick Attorney at Law are here to serve your interests and resolve your case as effectively and efficiently as possible.
Call us today!
We at Anthony J. Stonick Attorney at Law are passionate about proper representation in the Islamorada area legal system. Prosecutors will fight diligently against your criminal case, so be sure to have someone on your side to ensure your story is heard. With many years of experience, we at Anthony J. Stonick Attorney at Law want to help you. Call us at (305) 324-7888 to start your representation now.
Anthony J. Stonick Attorney at Law
93911 Overseas Highway
Tavernier, FL 33070
(305) 324-7888
Related Articles:
Criminal Attorney Key Largo FL
,
DUI Lawyer Tavernier FL
,
Federal Lawyer Miami FL
,
Felony Lawyer Miami FL
,
Juvenile Lawyer Fort Lauderdale FL
,
Marijuana Possession Lawyer Islamorada FL
,
Marijuana Possession Lawyer Tampa FL
,
Criminal Law Firm In Fort Lauderdale FL
,
Criminal Law Firm In Orlando FL
,
Criminal Law Firm In Stock Island FL
,